Introduction
---
Flutter has risen to prominence as the premier framework in the realm of app development, owing to a multitude of compelling reasons. This open-source framework by Google serves as a powerful tool for crafting exceptionally performing applications for Android, iOS, and web platforms. Given the escalating demand for Flutter app development services, a number of development companies are actively positioning themselves to thrive within this ever-growing domain.
In this blog, we will provide a comprehensive guide to the intricate process of establishing the best Flutter app development company. We will delve into the intricacies of how to hire Flutter app developers and offer insights into delivering unparalleled Flutter app development services that set you apart from your competitors.
What are the Advantages of Flutter App Development?
---
Out of all the frameworks that have been introduced in recent times, Flutter is one of the most widely used owing to its easy-to-learn framework. Developers who are equipped with different skill levels can easily access and develop apps using Flutter.
One of the most significant advantages of Flutter is its cross-platform compatibility, enabling apps developed with it to seamlessly run on both iOS and Android devices. Owing to its impressive set of widgets, Flutter provides a more effective user interface (UI). Moreover, developers can see the effects of their changes instantly due to its hot reload function which speeds up and streamlines the development process.
How to Build the Best Flutter App Development Company
---
There are several factors that make a Flutter app development company the best in business, we have pointed out a few for your understanding:
#

Hire Flutter app developers with strong development skills

A company comprising a team of skilled and experienced designers, developers, and project managers who are well-versed with the latest technologies can help develop outstanding apps.
#

Focus on UX/UI design

Aim at creating visually appealing designs and user-friendly apps. A team that has strong UX/UI design skills can help deliver results.
#

Develop a strong portfolio

Showcase your company's portfolio comprising successful Flutter apps developed by your team. This can help you reach a wider client base and establish your company's credibility as well.
#

Maintain good work quality

To build a successful Flutter app development company maintaining your work quality is extremely crucial. Build apps that are of good standards and make sure your development team adheres to design and coding standards. Also, make sure stringent testing processes are followed for optimal output.
#

Stay updated with the latest technologies

The industry is constantly evolving at a fast pace, and it is essential to stay in tune with the latest developments in Flutter app development. There are several ways in which you can stay up-to-date with the industry's latest happenings like attending conferences, joining online forums, and enhancing your team's skills from time to time.
How to Hire Flutter App Developers and Train Them
---
You need to hire the right experts in your team to build a reputed Flutter development company. The demand for skilled Flutter developers is at an all-time high, so it is crucial to retain them too after the hiring process is over.
Your hiring process should give a clear idea of what the developers are expected to do. Look for candidates who are experienced in developing apps with Flutter and, at the same time are proficient in other programming languages like Dart, Java, and Kotlin.
You can hire Flutter app developers from freelance platforms by posting your requirements. You can find suitable candidates on platforms like Upwork and Fiverr. The hired developers should receive training from time to time and should be updated on the latest trends and advancements in the Flutter app development space.
Adequate learning resources should be available to them to stay ahead when it comes to app development. Also, focus on team culture and be open in communication to ensure that your team stays motivated and gives the best inputs in developing a high-quality product.
Add-ons for a Successful Flutter App Development Company
---
Having a strong portfolio speaks a lot about your company's work. Pricing also plays an important role in defining how successful a development company is, and so does customer service and upskilling. Here are a few things to keep in mind which will go a long way in building enough credibility in the market.
#

Portfolio

The company's portfolio showcases the quality of apps your team has built. Clients often choose companies that have a strong portfolio with diverse projects.

Here are some tips on how you can build a strong Flutter project portfolio:

Start with in-house projects: Build small in-house projects exhibiting your team's technical capabilities. Focus on developing apps that are innovative in nature.
#

Pricing

Competitive and flexible pricing and payment plans are the need of the hour. Clients are always looking for development companies that offer reasonable pricing without compromising the quality of work. The more competitive your pricing, the better your prospects of attracting clients.

How do you ensure you are on the right path? Here's how:
Conduct market research: Conduct thorough market research and understand the pricing models of other Flutter app development companies. This will help you in setting competitive prices that are at par with the market.
Flexible payment plans: Offer flexible payment plans that suit individual client requirements. You can offer an hourly or fixed pricing model as per the project's scope of work.
#

Customer service

Always be open to communication and respond to any client query promptly. Providing quality customer service is a factor that helps in building a successful Flutter app development company.
#

Up skilling

Apart from providing excellent customer service to your clients, it is also essential to continuously improve and update your skills and services to stay ahead of the competition. Staying updated with the latest trends and technologies in Flutter development helps in providing innovative solutions and better services to your clients which helps in building your company's reputation.

By focusing on delivering quality customer service and continuously improving your skills and services, you can create a successful Flutter app development company like Shiv Technolabs that clients trust and recommend to others.
Major Challenges in Building a Successful Flutter App Development Company and How to Overcome Them
---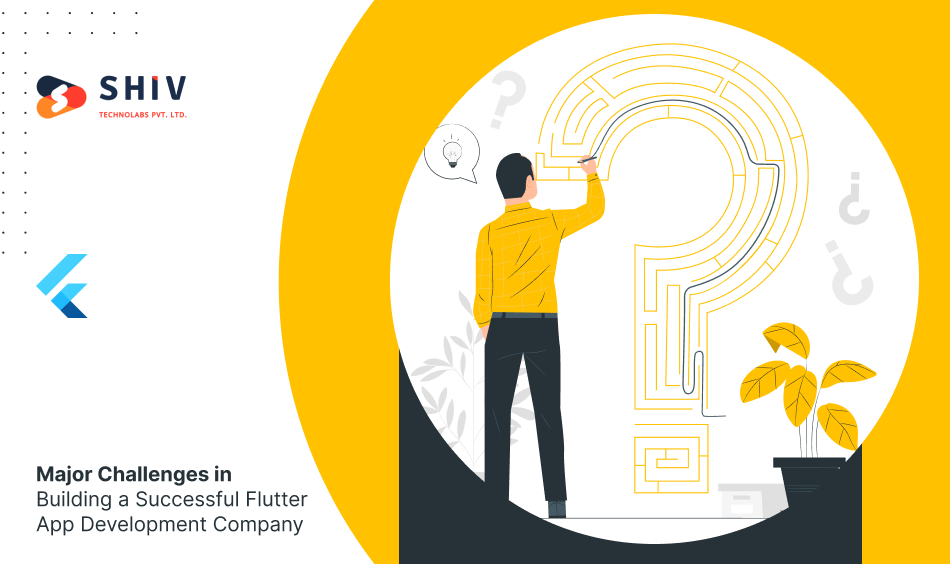 Transforming your company into the best Flutter app development company is not an easy task, and it comes with its own set of challenges.
Here are a few of the most common challenges you may face, and tips on how to deal with them:
Competition from other app development companies: The development space is full of competition with many companies trying to grab clients by implementing various strategies and plans. To make your company differ from the rest you need to firstly provide innovative services and that includes personalized app development, flexible payment plans, and exceptional customer service.
Adapting to new technology and industry trends: Attending conferences, networking with other developers, and investing in training programs for your team helps you stay ahead of the game.
Managing client expectations and project timelines: Clients have high expectations when it comes to their app development projects, which is quite challenging for development companies to manage. Be transparent with your clients from the start and set realistic project timelines.
Finding and retaining skilled Flutter developers: Flutter developers are hard to retain as they are much in demand and chances of attrition are high. To ensure that they stick to your company, offer competitive salaries and additional benefits. Focus on their professional growth and development which will create the right impact on your company's standing
Conclusion
---
Building a successful Flutter App Development Company requires a lot of dedication and you should be willing to adapt to the constantly evolving industry landscape. By offering unique and innovative services, and managing client expectations, you can overcome the challenges and build a successful business.
Revolutionize Your Digital Presence with Our Mobile & Web Development Service. Trusted Expertise, Innovation, and Success Guaranteed. Join Us Now!