NFT markets such as OpenSea, Rarible, and Superfarm have become investment and income hotspots. According to Statista, the NFT market revenue is estimated to rise at a rate of 27.26% per year (from 2022 to 2027) and reach $8,412 million by 2027.
This is an indication that NFT is converting every business concept it touches into gold. This is most likely why entrepreneurs and companies are already purchasing and selling non-fungible tokens and investing in the creation of NFT marketplaces. Before you invest in your own NFT marketplace app development, you need first understand the whole NFT marketplace development cost.
As a result, if you're searching for an estimate on the cost of developing an NFT marketplace, you've come to the perfect spot.
In it, we will provide you with the cost of developing an NFT marketplace, the elements that determine the cost of developing an NFT marketplace, and important criteria to consider before developing an NFT marketplace.
Overview of the Costs of NFT Market Development
---
The cost of developing an NFT marketplace ranges from $50,000 to $500,000, depending on the adaptations required to match your business objectives. If you wish to create your own NFT marketplace from scratch, the NFT marketplace development cost will be more than the ready-made option.
The functionality of the platform follows the same structure. If your objectives necessitate a complex platform, you'll need to increase your budget for marketplace development.
The NFT cost is determined not only by the platform but also by the tools and technology deployed. Aside from these parameters, NFT marketplace features, the size of your outsourced blockchain development team, the tech stack, and NFT market category all have an influence on your NFT marketplace development cost.
So, how about we investigate each aspect in depth to get a breakdown of the cost of establishing an NFT marketplace?
Features of the NFT Marketplace App that Influence Development Cost
---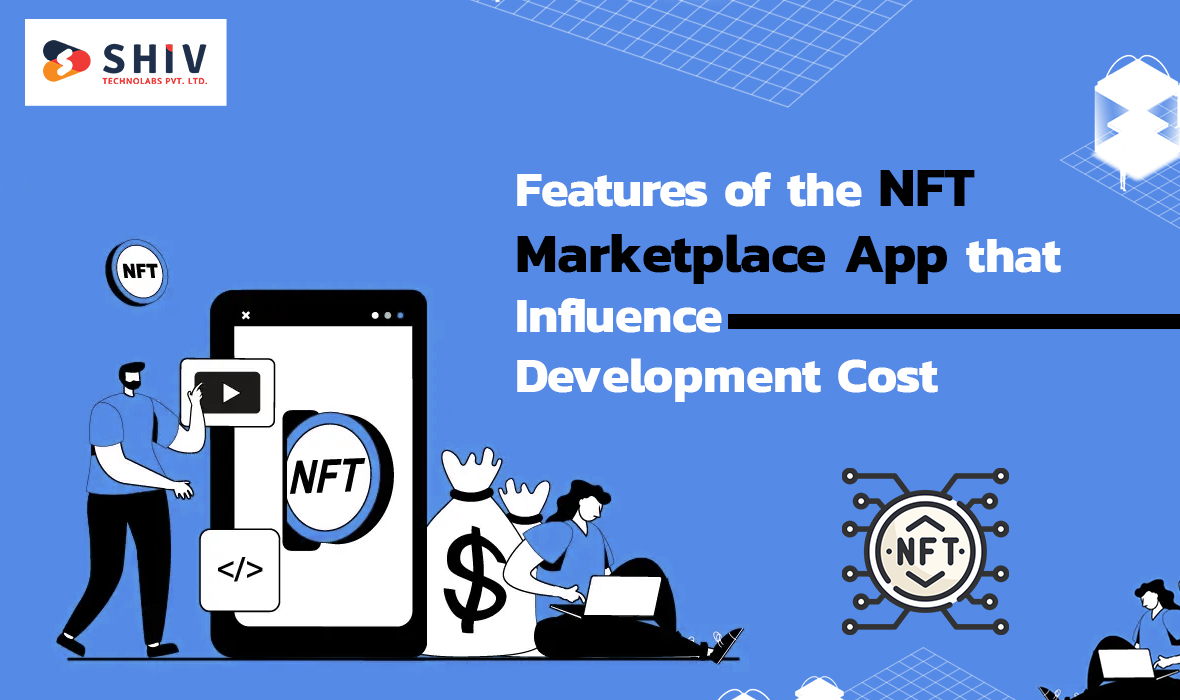 If you want to build an NFT marketplace, one of the first and most important cost-affecting aspects to consider is features. Your outsourced NFT marketplace app development business must provide a user experience that makes it easy to search for needed files, as well as a back-end mechanism that processes complex transactions effortlessly.
Keeping this in mind, here are a few must-have elements to consider while developing a unique NFT marketplace.
1

Storefront

This portion of the marketplace gives consumers information about the item, such as details, owner, bids, price history, and so on. The storefront serves as a dashboard to improve consumer interaction.
2

Advanced search functionality

While developing your NFT marketplace, ensure that the platform supports category tagging and management functions. This would make it easier for people to find collectibles they want to buy.
3

Create a listing

This aspect of the NFT marketplace development revolves around the vendors. The platform should allow users to build listings where they may enter their NFT data.

Also Read:- How to Create an Educational App and How Much It Costs?
4

Auction and buy

An effective NFT purchasing system is an essential component of NFT marketplace development services. Users should be able to enter the bid amount, expiration date, and a watchlist with data about the bid's status.
5

Wallet integration

Your users will need to use wallets to transfer, receive, and store NFTs and cryptocurrencies. To make the experience more seamless, you may either build your wallet in-app or merge existing wallets.
6

Instant notification

Your NFT business model should include an immediate push notification mechanism that sends out all of the most recent information via emails and push alerts on real-time data such as the launch of collectibles, new non-fungible tokens, upcoming auctions, and so on. A well-planned push notification may also help you increase your platform conversion rate.
7

Ratings

Ratings are a useful element in the NFT business model for both buyers and sellers. Users are more willing to conduct business with companies having a good reputation. A grading system can also avoid unwanted behaviors such as fraudulent representation or transaction withdrawal before the smart contract takes effect.

While these are the essential aspects of an NFT marketplace, there are numerous others, such as metaverse integration, multi-payment gateway integration, and so on.

The nicest aspect of developing NFT platforms is that you can combine NFT platforms, NFT crypto platforms, and NFT trading platforms all in one area.

Given the breadth of the NFT feature set, the NFT marketplace development cost depending on features might range from $5,0000 to $5,00,000 or more, if third-party modules are included.

While the pricing breakdown above is primarily based on the feature set, numerous linked aspects contribute to your ultimate cost.
Other Factors Influencing the Cost of NFT Marketplace Development
---
It takes a significant amount of time and effort to build an NFT platform from the ground up with cutting-edge features and security measures. If you are familiar with blockchain-based development, you are aware that NFT development needs extra connectors in order to perform safely.
However, issues such as platform complexity and integration may increase your costs. Furthermore, below is a thorough list of major aspects directly related to the NFT marketplace development cost?
Here is a thorough breakdown of the technologies used:
---
1

NFT tech stack

The technology stack necessary to build an NFT marketplace is critical in determining costs. NFT standards, blockchain, frontend platforms, and storage platforms are the standard tech stacks utilized by NFT marketplace developer.
| | |
| --- | --- |
| Blockchain platforms | Flow, Tazos, Cardano, Ethereum |
| Storage platforms | IPFS, Pinata, FileCoin |
| NFT standards | ERC-1155, ERC-721 |
| NFT standards | React, Vue, Angular |
The NFT platform's complexity comprises all of its backend services for supporting backend services, third-party connections, and other NFT market app development features.
2

NFT marketplace category niche

The cost of developing your NFT platform is also determined by the NFT categories you have picked as your expertise. For example, if you want to sell collectibles, your platform should be more secure than the open app market.
The following are the top four NFT marketplace categories:
This is one of the most frequent NFT marketplaces. It is open and premium. The platform, however, provides less functionality than closed platforms. OpenSea is a well-known example of an open and premium marketplace.
Curated versus uncurated marketplaces- A curated marketplace provides a welcoming atmosphere for authorized artists wishing to sell their work. A non-curated marketplace, on the other hand, promotes both authorized and unauthorized artists, making it easier for users to sell. Spotify is a perfect example of an uncurated marketplace.
Related Blog:- How to Make an App Like Uber?
Collectibles marketplace- This is a great area for collectors to sell and purchase different digital NFTs. NBA sports highlights, for example, are available as NFTs here for sports lovers.
Games marketplace- The gaming sector, particularly online gaming, is extremely popular with NFTs. Users can sell, purchase, and invest in numerous gaming platforms in order to obtain improved features, avatars, or levels.
| | |
| --- | --- |
| Open and premium marketplace | $50,000-$150,000 |
| Curated and non-curated marketplace | $80,000-$200,000 |
| Collectibles marketplace | $60,000-$250,000 |
| Games marketplace | $1000,000-$500,000 |
Here is a cost study of NFT marketplace development based on the four categories mentioned above.
3

NFT development team and process

You must outsource your NFT project to a team of blockchain NFT professionals that can put together a successful design, development, and testing strategy. The following responsibilities are required for your NFT marketplace development team:
Project managers
NFT marketplace developer
UI/UX designers
Solution Architect
Business analysts
Quality assurance officers etc.
The typical hourly rate for NFT marketplace developers in the United States is between $100 and $200. This range may differ based on where you live. For example, the cost of developing an NFT in India begins at $50 per hour. Similarly, the cost of developing an NFT platform in Australia and Europe starts at $80/hr. and may vary depending on your needs.
In terms of the process, the typical cost may be portrayed as follows, based on the design, development, and testing performed by your development team:
| | |
| --- | --- |
| Design | $5,000-$25,000 |
| Development | $50,000-$250,000 |
| Testing | $10,000-$30,000 |
4

NFT marketplace maintenance cost

If you want to build NFT solutions in the long run, you must consider the cost of maintenance and support for your NFT marketplace platform. The following elements will be included in your maintenance and associated costs:
| | |
| --- | --- |
| Platform updates | $5,000-$10,000 |
| Server costs | $10,000-$15,000 |
| Third party integration | $2,000-$10,000 |
| Security patches | $10,000-$20,000 |
| Bug fixes | $5,000-$10,000 |
It concludes the costing elements of NFT marketplace development. Although, the income source is the most pressing issue in the NFT business so, here are some monetization ideas for marketplace app development that you may use to generate money.
NFT Marketplace Development Monetization Models
---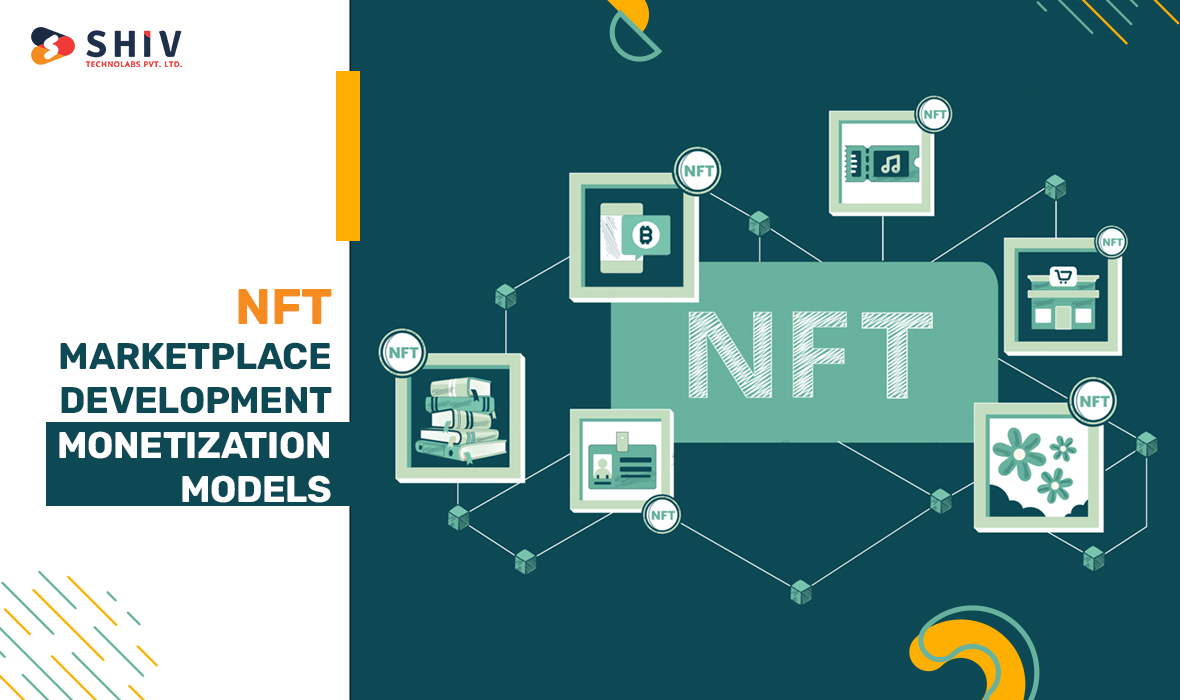 To generate and maximize income, it is critical to consider various NFT business strategies and monetization practices. The top four monetization tactics used by the NFT marketplace segments are as follows:
1

Royalty

Traditionally, the NFT marketplace charges a tiny commission on each non-fungible acquisition or token. Because it works well, the royalty model is frequently used across numerous NFT platforms.
2

Listing

The author of the product may also be asked to pay a fee during the tokenization process. For example, your platform may charge users who join up to generate listings on your platform a nominal fee.
3

Promotions

Under the promotion model, you may display specific banners on your NFT platform for marketing purposes and earn money from the businesses that use them. This is most likely the easiest approach to monetize through advertising.
4

Bidding

The auctions held on your NFT marketplace may potentially be used to generate revenue. As part of the owner percent platform fee, you may make money from each auction.

Here is a bonus read that highlights particular guidelines to take before joining the NFT marketplace sector to make sure you are ready for the development process.
Factors Before Developing an NFT Marketplace
---
Because there is so much buzz about NFT, it is reasonably profitable for businesses to build an NFT marketplace to link buyers and sellers. Understanding a few additional characteristics of NFTs can assist you in determining your niche and development strategy. Here are a few things you should know before diving into the world of NFTs.
1

Non-fungible token standards

An NFT's driving force is standards. They ensure that the asset will behave in a given manner and demonstrate how to interact with the core features of the asset.
At this point, two standards are widely used to create an NFT:
#

ERC721

The standard uses the mapping of unique identifiers to addresses that reflect the identifier's owner. It provides a permission approach for moving assets using the 'TransferFrom' function.
#

ERC1155

Instead of identifying a single asset, the IDs used in this standard represent a class of assets. This is far more efficient than the ERC721 standard. For example, if you are a game creator and want to sell 100 Armor sets, you will need to write 100 smart contracts for ERC721, but only one contract with the amount stated for ERC1155.
2

Non-fungible token metadata

There is a notion known as owner in the NFT space. It allows you to look up the owner of an NFT. For example, searching for the owner (290491) on ABC NFT's smart contract reveals that the owner of the token 290491 is XYZ, which can subsequently be validated on markets such as OpenSea.

But how can OpenSea-like platforms know what item 290491 is and what makes it unique? This is where the metadata enters the picture. Metadata provides descriptive information for individual token IDs, such as images, descriptions, or any other characteristics.
Aside from the nomenclatures, every novice businessperson struggles with understanding the legal paperwork required to create the best NFT crypto platform.

Legal paperwork for creating the finest NFT marketplace mostly consists of:
NFT marketplace development company formation
Terms of service
Community standards
Privacy policy
IP consideration details
The ideas listed above will help you with project documentation, classification, and execution. All you need is an expert NFT marketplace development services provider to assist you with precise cost calculation, feature customization, and post-development support.
How can you help us to build an NFT Marketplace?
---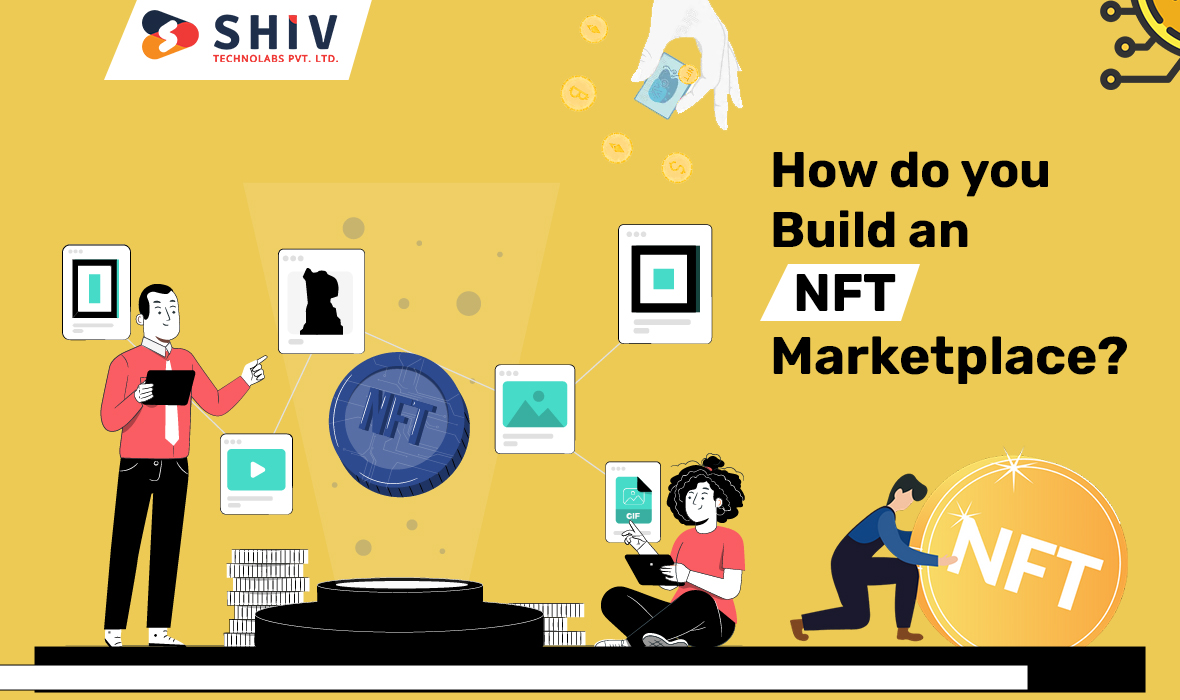 We are a reputable NFT marketplace development company with extensive expertise and experience in designing and administering decentralized solutions. With their specific NFT marketplace development specialization, our team of NFT marketplace professionals can help you translate your idea into a very successful marketplace.
We know the area inside and out since we created NFT business models and markets as an NFT marketplace development company. We can provide you with both options: constructing a bespoke NFT marketplace or developing one based on OpenSea SDK. In addition to the marketplace, we can assist you in the development of NFTs tailored to your brand as a means of expanding your income model.
Contact our NFT specialists to transform your company idea into a revenue-generating reality when we construct the NFT platform.
Conclusion
---
Hence, NFTs are a modern trend, and IT entrepreneurs should grab the opportunity to launch their own NFT markets. Shiv Technolabs is the top NFT marketplace development company, so start by contacting us.
Frequently Asked Questions 
---
1

How much building an NFT marketplace cost?

An NFT marketplace typically costs $50,000 to $500,000 to construct, depending on a number of factors including the tools and technologies used, the market's complexity, the market's specialty, the features and functionalities, etc.

To receive a precise cost estimate on your project, it is important to engage in NFT marketplace development services.
2

Is it possible to tokenize anything in NFT?

Yes, almost everything can be tokenized to NFT. Anything that a user is willing to contribute and that has a unique trait this will almost probably raise its worth.
3

Which NFT marketplace platform is the most popular?

Here are some of the most well-known NFT platforms at the forefront of the competition.
Rarible
Open sea
SuperRare
Foundation
4

How do you build an NFT marketplace?

If you want to develop an NFT marketplace for NFT buyers and sellers, the following are the main steps you should take to avoid making a mistake:
Choose niche
Choose your project's UI/UX design
Move to front-end deployment
Use smart contracts token generator
Test and deploy
5

Can I create my own NFT?

Yes, you can make your own NFT in five easy steps:
Choose the form of your NFT
Set up your digital wallet
Choose your NFT marketplace
Tokenize your art
List on the marketplace
Revolutionize Your Digital Presence with Our Mobile & Web Development Service. Trusted Expertise, Innovation, and Success Guaranteed. Join Us Now!